CPT 99453
Learn what devices are used and who qualifies for CPT Code 99453.
CPT Code 99453 is the billing code for setting up patients with RPM devices. It reimburses providers for the time it takes to set-up devices and educate patients on how to use their new at home monitors.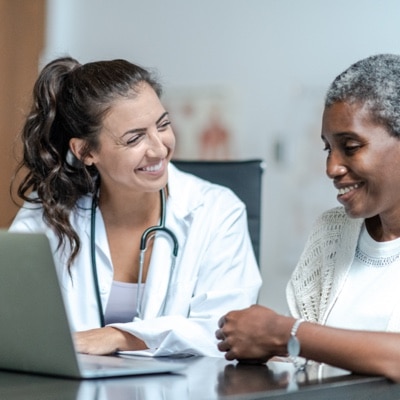 Frequently Asked Questions
This code is different from some of the other CPT codes because it is used only once for every patient rather than a monthly or annual billing code. CPT Code 99543 comes with its own set of rules and qualifications that are mapped out here in this comprehensive guide.
CPT Code 99453 is a billing code that compensates providers for onboarding, initial device set-up, and patient education while setting up RPM devices. With 100Plus, providers can earn $24.58 per one time patient under this code.
The services required for CPT 99453 as specified by Medicare guidelines are: the initial set-up and initial patient education on use of equipment. Medicare additionally requires that a member of the clinical staff or under the supervision of the primary physician spend time helping the patient set up and become comfortable with device use.
The eligible population for RPM has grown significantly in the past couple of years, this includes patients who now qualify for the CPT Code 99453. Remote monitoring was previously limited to Medicare patients with chronic conditions who were already established with their primary physicians and clinicians, thus preventing new patients from being added to the program without an initial in-person visit. Due to the current public health emergency, these initial in-person visits are no longer available to some, thus doctors can now use remote communication for first time visits to establish a virtual relationship with Medicare patients suffering from chronic conditions.
The major devices used for code 99453 are:
Blood Pressure Cuff
Pulse Oximeter
Blood Glucose Monitor
Digital Weight Scale
For billing, CPT Code 99453 will only cover the cost of the time spent setting up the device and educating the patient on device use. Cost and shipping of RPM devices will not be reimbursed.
As of this year, 2021, the average amount that Medicare will reimburse providers for CPT Code 99453 is $19.90.
CPT Code 99453 is unique in that it is an initial billing code that can only be billed once per patient during the device set-up period. Other codes, such as CPT 99454 and CPT 99457 can be billed monthly for continuous service costs, device supply, and treatment services.
Providers can get paid for their remote monitoring work by using CPT Codes. For CPT Code 99453, billing for the initial set-up of RPM, the primary physician or clinician of the patient must order the set-up. Providers can then bill for this code once per patient. CPT Code 99453 requires 16 days of patient data readings during a 30-day billing period.
Yes, a third-party RPM partner can deliver CPT 99453 services on behalf of the practice, so long as it is supervised by the primary provider. These third-party partners can educate patients on device set-up and use. Utilizing a third-party partner that specializes in remote monitoring, like 100Plus, can alleviate stress from and help physicians and clinicians to run crucial and efficient RPM services.
Yes, a single patient can have multiple RPM devices under the CPT Code 99453, but providers can only bill for the set-up of one device. This code is used to bill for the initial set-up and education of the patient regardless of the number of devices they are using.
As of 2021, the Physicians Fee Schedule Final Rule has clarified which RPM devices are acceptable medical equipment for Medicare patients. Devices for CPT Code 99453, however, do not need to be specifically FDA-approved. Instead, Medicare specifies that the devices meet the FDA's definition of a medical device as described in Section 201(h) of the Federal, Food, Drug and Cosmetic Act.
By this standard, the device must:
Automatically upload patient data to primary physicians and clinicians
Be relevant to the treatment plan for the patient's condition
Collect and transmit data in an accurate and reliable manner
The work for each remote monitoring service must be ordered by the patient's primary physician or clinician and they must be monitored for at least 16 days before providers can bill for CPT code 99453.
Use CPT Codes like 99453 to keep your patients monitored and providers paid. With no hassle patient onboarding, no upfront costs, and full support for physicians, clinicians, and patients alike, 100Plus makes RPM easy.
Find Out Your Estimated Reimbursement
Talk to an RPM specialist today and get an estimate for Medicare reimbursement in your area. With 100Plus you can deliver exceptional care for your patients beyond the four walls of the office.