Patient Support
Information on remote patient monitoring equipment, usage, and more.
Having issues getting started? Check out our device support guides below.
RPM Device Support Guides
100Plus' remote patient monitoring devices share critical health information with your doctor to help them understand more about your health and wellbeing between visits.
Remote Patient Monitoring: Your Path Toward A Healthier Life
Why do we care about in-home monitoring? So your provider can see how you're doing. You can manage conditions—not just react—and live a better, healthier life.
There is tabbed content below. Use the arrow keys to navigate through the tabs and the tab key to read the content.
FAQs on Remote Patient Monitoring Devices
When you have a chronic condition and are not able to share your biometrics with your doctor daily, they don't have the necessary information to adjust your care plan between visits and reduce the chance of a trip to the hospital or emergency department.
The cost of remote monitoring is covered by Medicare and most other insurance plans. This includes the complimentary devices, because RPM has been shown to reduce the frequency of expensive hospitalizations that could have been prevented if the doctor was able to intervene. You may use standard copay and deductible.
Your device is ready to go. All you need to do is unpack the box and turn it on. For more detail, see our quick start guides.
We encrypt your personal information. We follow and stand up for all applicable Federal privacy laws.
Glucometer consumables—including test strips and lancets—will be automatically ordered when an enrolled RPM patient is below the minimum level of supplies needed. This helpful feature reduces the hassle for both patients and practices and makes adherence easier.
Easy To Use Remote Patient Monitoring Equipment Out Of the Box.
You will never need Wifi or Bluetooth to be connected. All of our devices are fully configured and ready to go with just a regular cellular connection.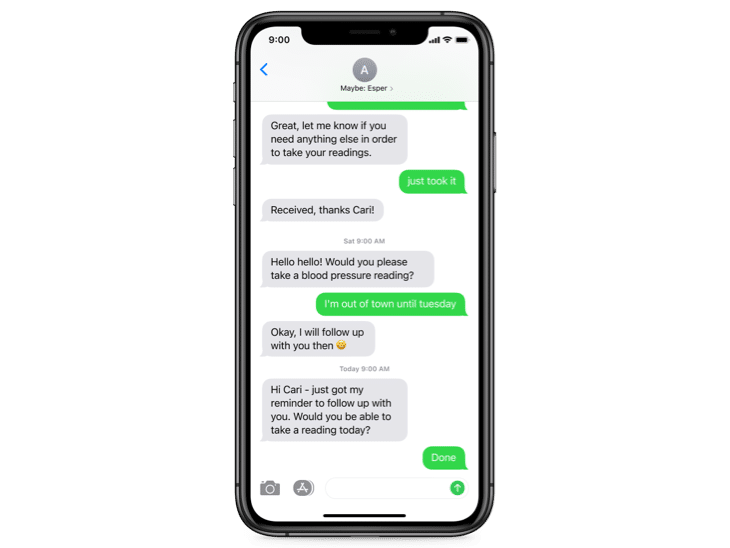 Meet Esper: Your AI Assistant Who Helps Keep You On Track
We know that this is new to you. That's why all our devices come with Esper, an AI assistant who helps keep you on track.
With a simple call or text message, Esper reminds you to take readings and answers questions you might have.
You don't want to keep going to the clinic. Esper brings the clinic to you.
Need Additional Support?
Our Customer Success team, based in the U.S., is happy to assist you Monday-Friday from 9 a.m. to 8 p.m. EST.
Simply complete the form below or call our Customer Success team at 844-483-7587.
"*" indicates required fields