Blood Glucose Monitor Support
The 100Plus Blood Glucose Monitor shares critical health information with your doctor to help them understand more about your health and well-being between visits.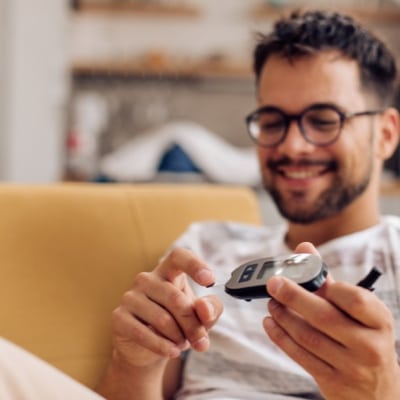 Getting Started
If you need help with your 100Plus blood glucose monitor, please give us a call at 844-483-7587 or download the Quick Start Guide below.
Your blood glucose monitor automatically shares health data to your doctor without you having to take any extra steps. It works right out of the box — no setup required.
As a part of the program, 100Plus will send you test strips and lancets to use with your device at no cost to you, saving you at least $100 per month in consumable supplies alone. We may also send you emails periodically with reports from your doctor to help you manage your chronic condition with 100Plus.
Please review the following information to help you get started using your blood glucose monitor. If you need additional support, our Customer Success team, based in the United States, is happy to assist you. Simply call our Customer Success team at 844-483-7587.
Best Practices for Taking Blood Glucose Readings at Home
Proper training and technique for patients is the best way to ensure accurate readings with your at-home blood glucose monitor.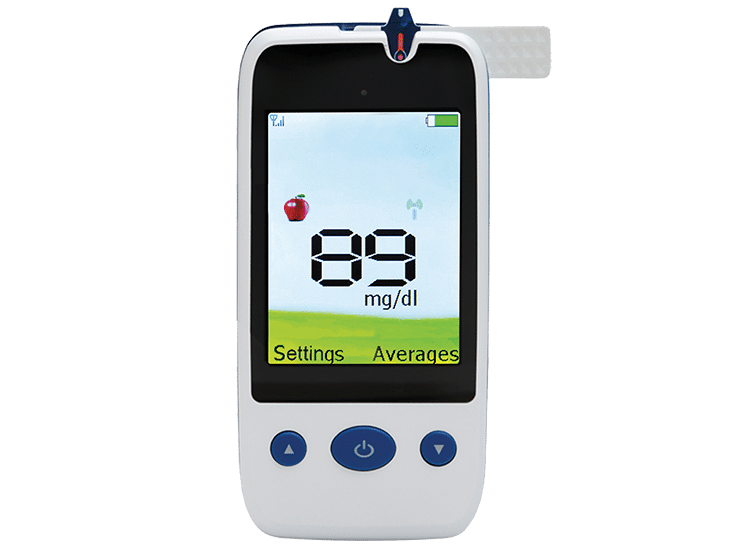 Some of the most common reasons for inaccurate readings can be attributed to a simple lack of patient education. 100Plus provides accurate and reliable at-home Remote Patient Monitoring devices and proper patient education, guides, and resources to guarantee precise patient data for clinicians.
Accurate and consistent blood glucose readings are essential to efficiently monitoring a remote patient. These best practices will help patients to record the most exact data for healthcare providers so that clinicians can work with patient measurements to prevent health emergencies. Patients who consistently report inaccurate results put themselves at risk of dangerously high or low blood glucose and can potentially leave providers uninformed.
5 Ways to Ensure Accurate At-home Blood Glucose Readings
With all these steps and techniques, patients and clinicians alike can be confident in their at-home blood glucose monitor readings and work together to ensure the health of all remote patients.
Make sure your test strips are not expired. Test strips that have passed their expiration date are not guaranteed to yield accurate results. Keeping your test strips dry and out of direct sunlight will also help deliver the most accurate results.
Establish a routine. Measuring blood glucose daily is important in collecting ample data while monitoring remotely. Each patient will have a unique schedule for testing that works best with their specific situation and condition.
Use a branded meter over a generic one. Branded meters, such as this one, go through rigorous testing that are not always required for generic meters. Branded meters are more likely to have accurate readings and more reliable measurements.
Wash your hands before using your blood glucose monitor. Residue left on fingertips, such as food, may interfere with the accuracy of a reading.
Frequently Asked Questions
Your provider needs you to take readings according to your current care plan, generally daily or as frequently as possible.
Your provider gives the blood glucose monitor to all patients with an eligible diagnosis in order to monitor their health on an ongoing basis. This way they can be sure that your blood sugar isn't a problem and alert you if it becomes a problem.
The device you currently use doesn't transmit the readings back to your provider. These new devices will allow your provider to see your device readings in real time, and adjust your care plan between visits, ultimately reducing the chances that your health deteriorates.
Your 100Plus device will last several weeks or months before needing replacement batteries. Battery life varies by use, the cellular network, signal strength, and many other factors; actual results will vary.
If you have any questions about your device or need new batteries once depleted, do not hesitate to contact the 100Plus customer support team at support@100plus.com or 844-483-7587. We're here to help.
Glucometer consumables—including test strips and lancets—will be automatically ordered when an enrolled RPM patient is below the minimum level of supplies needed. This helpful feature reduces the hassle for both patients and practices and makes adherence easier.
Have More Questions?
Having issues getting started? Our Customer Success Team, based in the U.S., is happy to assist you.